場館地址:臺北市中正區忠孝西路一段265號
Address: No. 265, Section 1, Zhongxiao West Road, Zhongzheng District, Taipei City
|捷運|
・臺北捷運「臺北車站」→站前地下街Z9出口→步行約3分鐘即可抵達
・臺北捷運「北門站」→由2號出口上平面→沿塔城街步行至忠孝西路向左轉→步行約5分鐘即可抵達
・桃園機場捷運「臺北車站」→由5號出口上平面→沿重慶北路步行至忠孝西路向右轉→步行3分鐘即可抵達
|公車|
・臺北車站(忠孝):14、39、299、652、藍1、忠孝幹線
・臺北車站(重慶):22、223、252、257、300、513、605、667、670、835、重慶幹線
・臺北郵局:18、22、49、232、247、257、262、276、513、835、和平幹線、內湖幹線
|MRT|
・Take MRT to "Taipei Main Station" → ・Take exit Z9 of Underground Mall → Walk for about 3 minutes
・Take MRT to "Beimen Station" → Take exit 2 → Walk to Zhongxiao West Road along Tacheng Street and turn left → Walk for about 5 minutes
・Take Taoyuan Airport MRT to "Taipei Main Station" → Take exit 5 → Walk to Zhongxiao West Road along Chongqing North Road and turn right → Walk for about 3 minutes
|Bus|
・Take 14, 39, 299, 652, Blue 1, Zhongxiao Route, and get off at Taipei Main Station (Zhongxiao) stop
・Take 22, 223, 252, 257, 300, 513, 605, 667, 670, 835, Chongqing Route, and get off at Taipei Main Station (Chongqing) stop
・Take 18, 22, 49, 232, 247, 257, 262, 276, 513, 835, Heping Route, Neihu Route, and get off at Taipei Post Office stop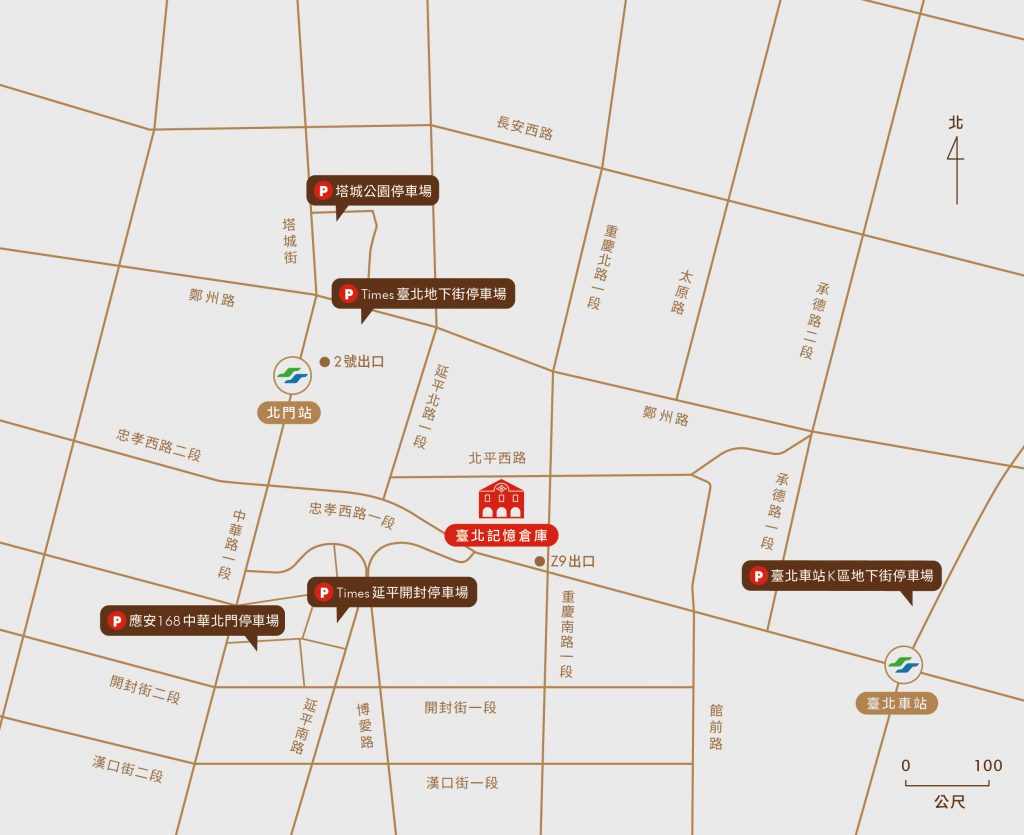 |開放時間|
・週二至週日 上午11點至下午7點
 * 每週一、除夕及春節期間休館
|購票資訊|
・本館一二樓展覽皆為免費自由參觀
|友善服務|
・本館設有無障礙電梯、廁所。
|注意事項|
・全館禁帶外食
・請勿吸菸、奔跑嬉戲及其他有安全疑慮之行為
・勿攜帶傘具、危險物或易燃物入館
・服裝不整、攜帶寵物者(導盲犬除外)謝絕入館
・請勿使用閃光燈、腳架及自拍棒攝影,並禁止做任何未經許可之商業及出版使用
|Opening Hours|
・11:00 – 19:00, Tuesday to Sunday
* The venue will be closed every Monday, lunar New Year's Eve, and during lunar New Year's holidays.


|Ticket Purchase|
・The exhibitions on the first and second floor of this venue can be visited for free.
|Friendly Facilities|
・Barrier-free elevator, restrooms
|Note|
・No outside food or drink allowed.
・Do not smoke, run or play, or behave with safety concerns.
・Do not bring umbrella, dangerous goods, or inflammable into the venue.
・Visitors with improper clothing and pets (except guide dogs) are not allowed to enter the venue.
・Do not use flashes, tripods and selfie sticks for photography; any unauthorized commercial and publishing use of the pictures taken here is also not allowed.
Guide Tours of Exhibition
本館提供提前預約導覽服務,請於入館7天(工作天)前來電預約。
Guided tour is available subject to the reservation over the phone 7 (working) days before the visiting day.